ABOUT THE ARTIST
Born in Oakland, California, Jerry Little has been associated with art most of his life, having been influenced by his late father, who was a successful artist, teacher and juror. Little's paintings are in corporate and private collections throughout the United States, Europe, Mexico and Japan and he has Gallery representation in the United States and Mexico. Little now lives and paints part time in Todos Santos , Baja California South, Mexico.
Jerry received a degree from Delta College in Stockton and moved to Eugene, Oregon where he continued his art studies at the University of Oregon. He has studied with a number of prominent artists, including such noted artists as Millard Sheets, Gerald Brommer, Robert E. Wood, Morris Shubin, Mario Cooper and Milford Zornes.
Little is an elected Signature Member of the National Watercolor Society, California Watercolor Association and is also affiliated with the American Watercolor Society, Oregon Watercolor Society and several watercolor organizations in California. In 1998/1999, he was elected president of the California Watercolor Association and has been a consultant for them since early 1996.
Little is an author, teaches workshops, gives lectures/demonstrations utilizing his unique approach to art, and is a juror for art exhibitions such as the Academy of Art in San Francisco and other art organizations. In 1996, Little received the Outstanding Achievement Award presented by the California Watercolor Association.
PUBLICATIONS
Little, with co-author, Jann Pollard has just completed a new art book entitled "Creative Computer Tools For Artists". This unique book will be useful by all artists from oil to watercolor. It features some 32 professional artists from the United States and Europe and shows how they use the computer to help them become better artists through stronger design and color. The book was published by Watson/ Guptill and is now available in bookstores in the United States and Europe.
Little's work may be seen in several publications, including Gerald Brommer's book, "Collage Techniques," (A Guide for Artists and Illustrators), published by Watson Guptill. Little authored an article and demonstration in the November, 1998 issue of Artist Magazine. He also authored an article and was featured in the August/September 1998 issue of International Artist Magazine.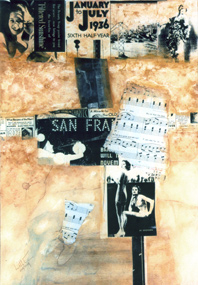 "Memories", mixed, collage, 22" x 15"
His work was chosen from several thousand watercolor submissions from around the world to be in the 1995 "In Watercolor Series Books," again in the 1997 international competition of the "Best of Watercolor Two,"and in the 1999 "Watercolor Expressions" book, available in the USA and Abroad, published by Rockport Publishers.
Little's work was accepted as a finalist in the 1994 all media competition in the internationally distributed Artist Magazine, and was in the top 16 of the mixed media category out of nearly 9,000 artists nationally. He was also selected as a finalist in the 1996 Artists Magazine from more than 12,000 artists. Little was again selected as a finalist for the 1998 competition out of 10,000 artists.
AWARDS
Little has exhibited paintings in a number of one-man and group shows. He has been the recipient of many awards. His work was honored in the National Watercolor Society's 1996 exhibition as one of 30 paintings selected to travel around the United States for one year. His work has been exhibited in art galleries in Oregon and California. Little had a graphics design accepted by the University of California in 1997 for a west coast regional conference. Little is listed in Marquis Who's Who in the West, America edition and Who's Who in the World edition.

www.jerrylittleart.com
little.jerry@comcast.net