I am basically an experimentalist and work in all media (mixed media). My father was a well-known artist, so art was around me as a child. I couldn't help but follow my heart in becoming an artist one day myself.
I look to find a different approach to a subject and while I will paint a full abstract as big as six or seven feet, I also like to work in small formats that represent an area between abstract and representational.
I do not intend to duplicate the subject, but to create a stage show for that subject in the viewer's mind, using a wide variety of materials and techniques intermingled with subject matter.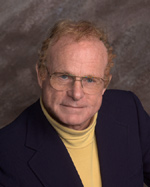 ©2001 Jerry Little
All Rights Reserved